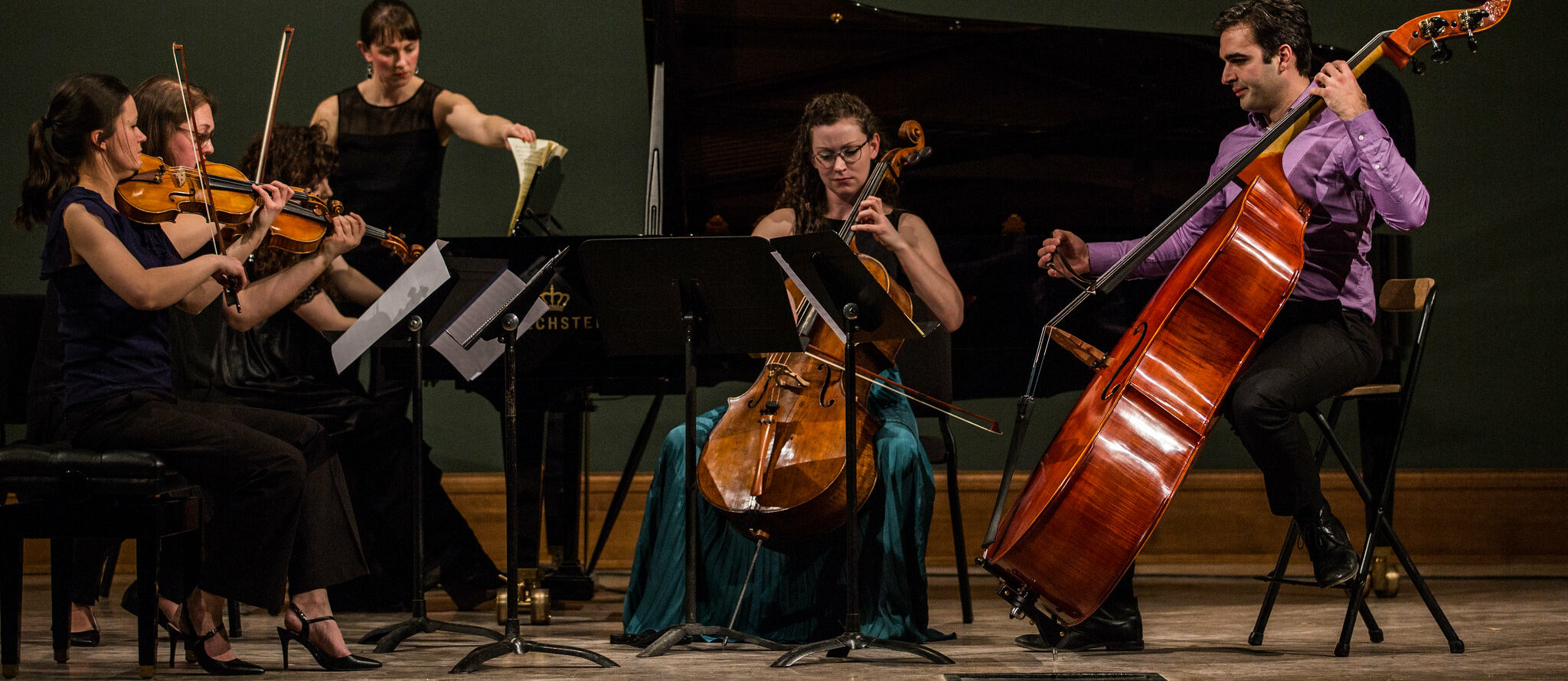 ri·tor·nel·lo.    /ˌridərˈnelō/
(Italian for "return")
"When we first dreamed of Ritornello in 2008, we wanted to create something that would bring prairie musicians home to the community that raised us, a way to share music and collaborate with the local musicians who continue to be so integral to Saskatoon's musical fabric. This is how our 'Ritornello,' or 'little return,' was born. Over the years, Ritornello has also become a wonderful way to share our city with the many fantastic musicians we've met along the way."
– Jacqueline Woods, Ritornello Co-Founder & Artistic Director
Since 2009, Ritornello's Artistic Directors Carissa Klopoushak and Jacqueline Woods have dedicated themselves to out-of-the-box programming that embraces cross-genre collaborations and unique performance settings in concert programs that feature everything from celebrated masterworks, to new commissions. Featured artists have included: Lara St. John, Gryphon Trio, Cecilia Quartet, Philip Chiu, Jon Kimura Parker, Ironwood Quartet, Cris Derksen, Mark Fewer, Duane Andrews, Kevin Wesaquate, and many more.
Saskatchewan's one and only chamber music festival takes place annually in May, in downtown Saskatoon. After a pandemic hiatus, Ritornello returns February 17, 2022 with The Singing Spirit, a concert featuring two long-time Ritornello collaborators, violinist Kerry DuWors, and pianist Katherine Dowling.
Ritornello Chamber Music Festival provides Saskatchewan audiences the opportunity to hear musicians of the highest quality, especially those who were born and raised in the Prairies. Ritornello strives to expose a diverse audience to the chamber music experience and to provide educational opportunities to young artists. Ritornello is a non-profit organization supported by donations, ticket sales and grants, and the only one of its kind in Saskatchewan.
Carissa Klopoushak
Ritornello Co-Founder & Artistic Director
Carissa Klopoushak has made a name for herself as a curious, creative, and versatile musician. Based in Ottawa, she is a proud member of Canada's National Arts Centre Orchestra and the Ironwood Quartet. A laureate of the 2018 Canada Council for the Arts Instrument Bank Competition, Carissa performs on the beautiful Maggini model 1851 Jean Baptiste Vuillaume violin.  She was named Artistic Director of Ottawa Chamberfest in March 2021, after serving the leadership role in an interim capacity for six months.
Carissa has toured the country extensively, performing recitals for Debut Atlantic and as the winner of the 2009 Eckhardt-Gramatté National Music Competition. A passionate collaborator, Carissa has been featured at Ottawa Chamberfest, Montreal Chamber Music Festival, Toronto Summer Music, Music & Beyond, Bravo! Niagara, and Music by the Sea.  She spent a season performing with the Australian Chamber Orchestra, which she joined for a series of tours and recordings, including a residency at The Banff Centre. She has shared the stage with acclaimed artists such as Jon Kimura Parker, the Gryphon Trio, Lara St. John, Giovanni Sollima, Mark Fewer, John Storgårds, Branford Marsalis, Miloš Karadaglić, and Richard Reed Parry.
Carissa is the founder and Artistic Director of the Ritornello Chamber Music Festival in her hometown, Saskatoon. Founded in 2009, the festival strives to bring the chamber music concert experience into the 21st century through fresh and innovative programming and presentation. Carissa, with her friends in the Ironwood Quartet, serves as co-director of the Classical Unbound Festival in oenophilic Prince Edward County.
Carissa enjoys performing in many different styles, especially Ukrainian folk music.  She is the lead singer, violinist, and arranger in the Ukrainian turbo-folk band Тут і Там (pronounced Toot-ee-tahm). The band has recorded four full-length albums and performed at major Ukrainian festivals across Canada, Sydney, Australia, and in Ukraine.
As a dynamic and fluid musician never limited by genre, Carissa thrives in the richness of various musical experiences. In her multifaceted world, she has co-composed and recorded a ballet score for Edmonton's Ukrainian Shumka Dancers' production Ancestors & Elders, performed the Canadian premiere of Vivian Fung's Concerto no. 1 with the Saskatoon Symphony Orchestra, and toured Canada, China, and Europe with the National Arts Centre Orchestra.  She is a strong advocate for more inclusion in classical music, programming and performing new music, female composers, and giving a platform to underrepresented voices.
Carissa's evolution as an artist is guided by music's universality—its power to connect people, its ability to build communities.  As both a musician and presenter, she aims to bring people closer together.  The pursuit of meaningful and honest connection, combined with a healthy dose of curiosity, serves as the driving force shaping her artistic voice. She brings a versatile skill set, a unique voice, warm energy, and vigorous dedication to any project.
Carissa holds a doctorate in violin performance from McGill University, where she focused on the little-known classical violin repertoire by Ukrainian composers. Her debut recording, SOUNDWORLDS, was released in 2016 with Canadian pianist Philip Chiu.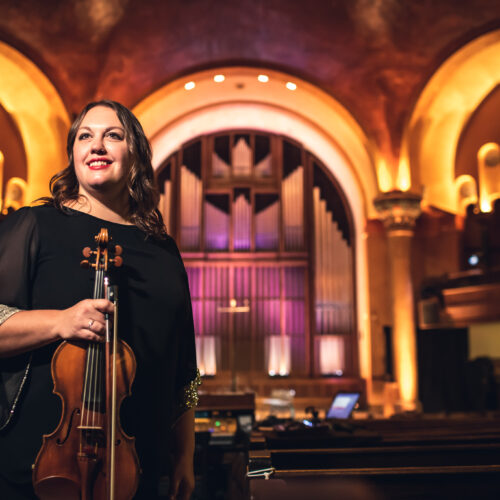 Jacqueline Woods
Ritornello Co-Founder & Artistic Director
Canadian pianist Jacqueline Woods is known for exciting, dynamic playing and accessible presentation. While she commands a wide range of repertoire, she has a particular love for the world of chamber music. Jacqueline's musical career has taken her around the world – from Budapest to New York. She is an advanced candidate of the SUNY Doctor of Musical Arts program and holds additional degrees from the University of Ottawa, the University of Saskatchewan, the London College of Music, and Hungary's Liszt Academy of Music.
These days, you'll find Jacqueline running Foundation Communications, a boutique communications firm, and pursuing a PhD in Public Policy at the University of Saskatchewan's Johnson Shoyama Graduate School, where she focuses on Indigenous Economic Development. Dedicated to community, Jacqueline volunteers with the Cancer Foundation of Saskatchewan and Reconciliation Saskatoon's ConnectR project. She lives in Saskatoon with her husband, two children, and miniature dachshund.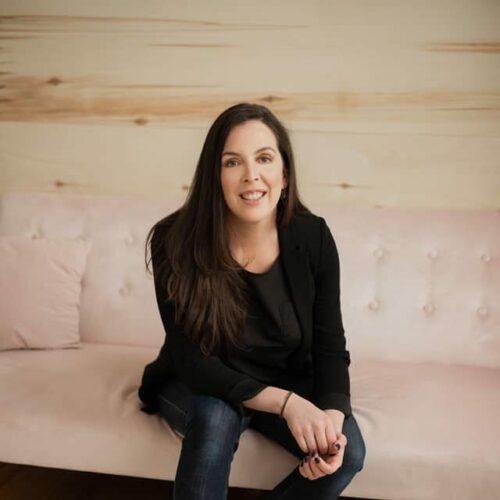 Megan Grier
Ritornello Operations Manager
Soprano Megan Grier is no stranger to the arts. Having recently graduated from the Arts and Culture Management program at MacEwan University, Megan is now working for the Saskatoon Symphony Orchestra as the Director of Marketing and Communications. She has found the perfect fit to combine her love of making music and using her expertise in the business field. Over the years she has been involved in numerous concerts, fundraising efforts, volunteer boards, and event planning. She has worked with the University of Saskatchewan Greystone Singers, Saskatoon Opera, and the Saskatoon Chamber Singers both on and off the stage. She is excited to continue her work as Operations Manager with Ritornello Chamber Music Festival. With a love of all things local, Megan looks forward to furthering the growth of the arts in Saskatoon.